Satoshi's Games is bringing its powerful Bitcoin gaming platform, Elixir, to iOS and Android. Mobile gamers will soon enjoy stacking sats and earning in-game NFTs from the convenience of their smartphones.
Gamers can currently sign up for the closed beta, which will launch by the end of 2021. Space is limited to only 100 slots, so time is of the essence!
Pnwn Noobs, Stack Sats
Gamers can already practice their 360 no scopes by downloading the desktop version of Elixir. The platform offers a variety of games and genres—from classic arcade styles to modern first-person shooters—where players can complete in-game missions to earn daily bitcoin rewards and collect NFTs, such as skins, gear and weapons. A few of the most popular are:
Light Nite is a third-person shooter with a simple, low-poly design for optimized gameplay. The game offers several modes like team deathmatch and battle royale.
In Satvival, players earn bitcoin by outlasting others on a treacherous island. Players must learn to gather food, craft tools, and fight enemies to be the last standing.
There are also several titles in the pipeline, including a Dungeons & Dragons-like fantasy epic called Whisper of Soul, and 2140, a futuristic zombie survival game that lets players wield lightsabers. Both are expected to launch in Q4 2021.
Games Fueled by Bitcoin
By building games on top of Bitcoin, developers can create one seamless, interactive experience for gamers.
Under the hood, Elixir leverages both the Liquid and Lightning networks to monetize any digital interaction, giving gamers the ability to earn bitcoin and NFTs in real-time with nearly zero fees.
After receiving in-game assets, players can sell, buy, or trade them in exchange for more bitcoin or better items on the Elixir NFT marketplace. Users also have the option to withdraw their balance in bitcoin or convert it to a gift card to access more than 4,000 stores worldwide.
Additionally, NFTs earned in-game can be transferred off-platform to any Liquid address, enabling peer-to-peer gifting and trading with other players.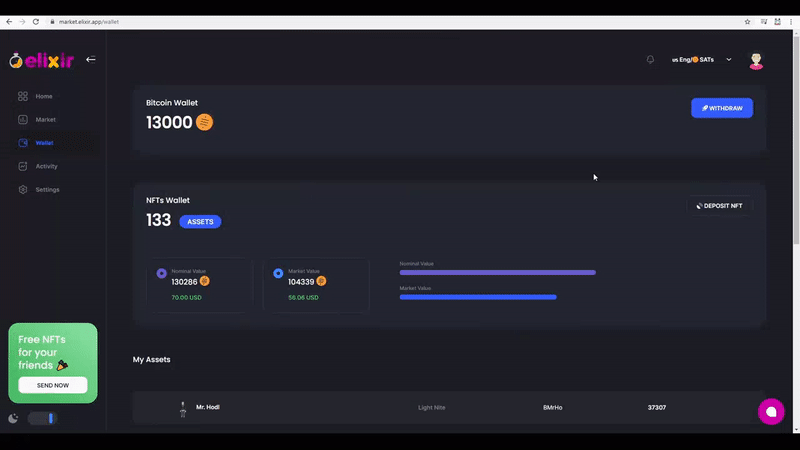 Extending the gaming experience by empowering players to trade trustlessly with peers for real world value offers an unparalleled experience only made possible with Bitcoin.
Resources for Gamers and Game Developers
To begin your Bitcoin gaming journey, download the Elixir Game Launcher for desktop. For a limited time, players can use this referral code to get 20% off their purchase of Light Nite and receive 500 sats and three in-game NFTs.
For game developers, Elixir offers simple SDKs to integrate Bitcoin and NFTs into games for additional revenue streams and increased user retention. You can explore the developer dashboard and access the REST API to learn more.