During the Bitcoin 2022 Conference in Miami, Liquid Federation members met in person and over video to discuss the Liquid Network's overall state, prioritize new functionality, and set project timetables for the remainder of the year. The agenda included several presentations by Liquid Members that covered:
Developer tooling and libraries
Digital asset regulation and legal frameworks
Overview of network upgrades like Dynamic Federations (DynaFed) and Taproot
Extending opcodes and bringing new functionality to Liquid
Upgrading the Liquid block explorer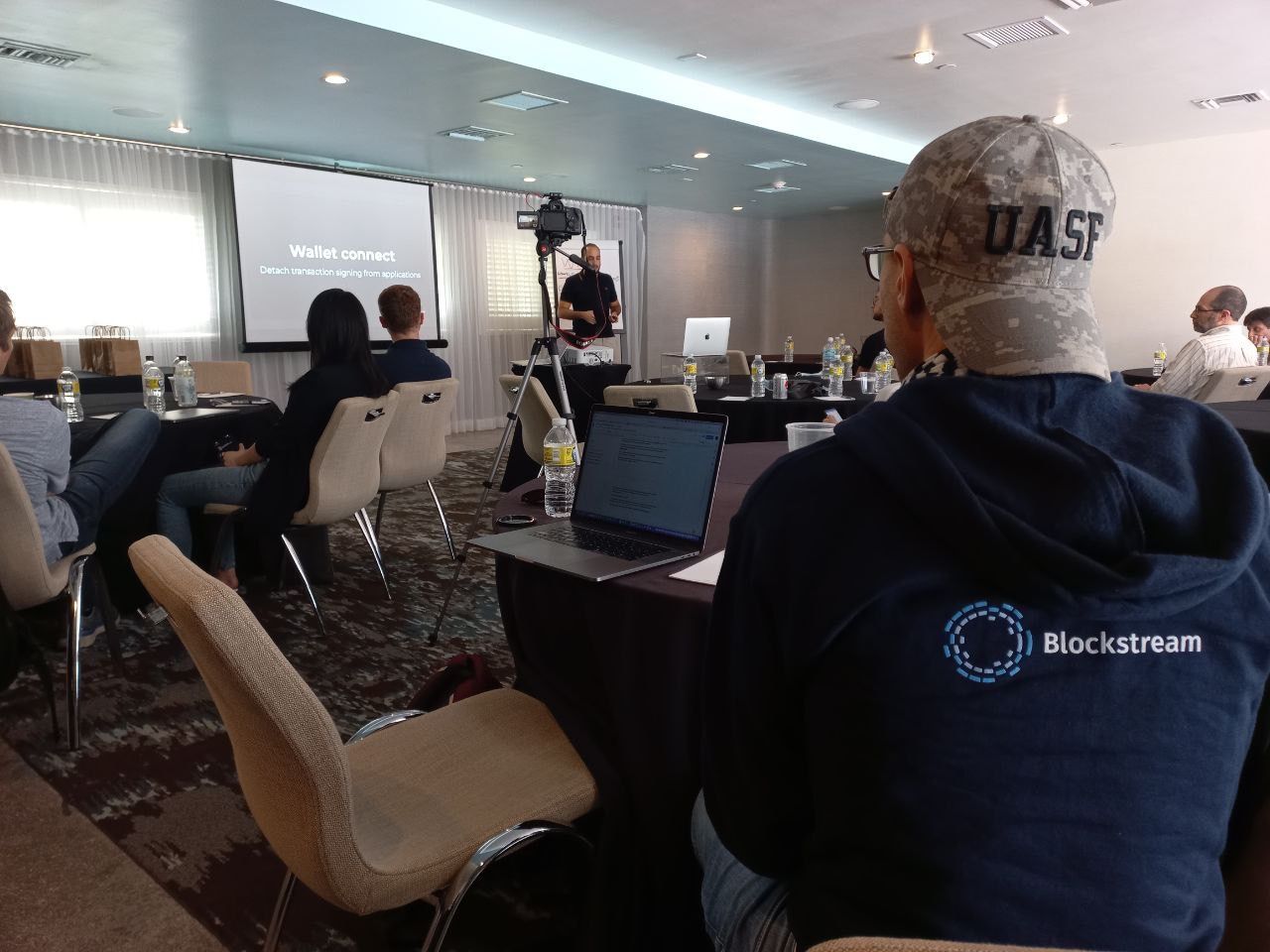 Members came away with a more holistic understanding of how they can better allocate resources and fill the gaps in development.
As Liquid continues to become foundational infrastructure for the new financial system being built on Bitcoin, engineers, companies, and other members of the Liquid community will need a complete kit of tools and resources at their fingertips.
The Liquid Federation looks forward to working closely with each member to build out this informational resource, helping to best position Liquid and Bitcoin for the coming wave of institutional adoption. We must build this new financial future on Bitcoin and its layer-2 solutions, or we are simply replacing a fragile, centralized, too-big-to-fail system with another.
Vulpem Ventures
Marco Argentieri (@tierotiero), Head of Product at Vulpem Ventures, the software company behind Marina, Liquid.Taxi, and Nigiri Bitcoin opened with a bullish case for Liquid, that ticked all the boxes: covenants, Confidential Transactions, native asset issuance, atomic swaps, and fast block times.
Marco also shared a wishlist with members, including a developer portal for easier onboarding, more idiomatic libraries and SDKs, and future hackathons to push innovation.
Watch his full presentation below:
SevenLabs
Next, Simona Mace (@SimoMace) from SevenLabs spoke on the regulatory frameworks around DEXs and digital assets. SevenLabs developed the TDEX protocol, a Liquid-powered exchange where users can trade Liquid assets peer-to-peer.
The new digital asset class presents regulatory bodies, especially supranational ones, with new challenges because of their decentralized nature. Until recently, regulation has remained largely unclear and inconsistent across regulatory agencies, but through the help of third parties, there is now a broad effort to establish a more clear legal framework. The SEC's new ATS proposal, President Biden's executive order on the responsible development of digital assets, and the EU's recent MiCA regulation are all examples of legislation introduced in the past two months to further define this new asset class.
Blockstream
Members of the Blockstream team (Jeff Boortz, Phil McLean, Pablo Greco, and Tim Chinowsky) discussed the institutional adoption of Liquid, making the network more resilient through DynaFed, delivering new features, and the rollout of the new HSM modular architecture set for later this year.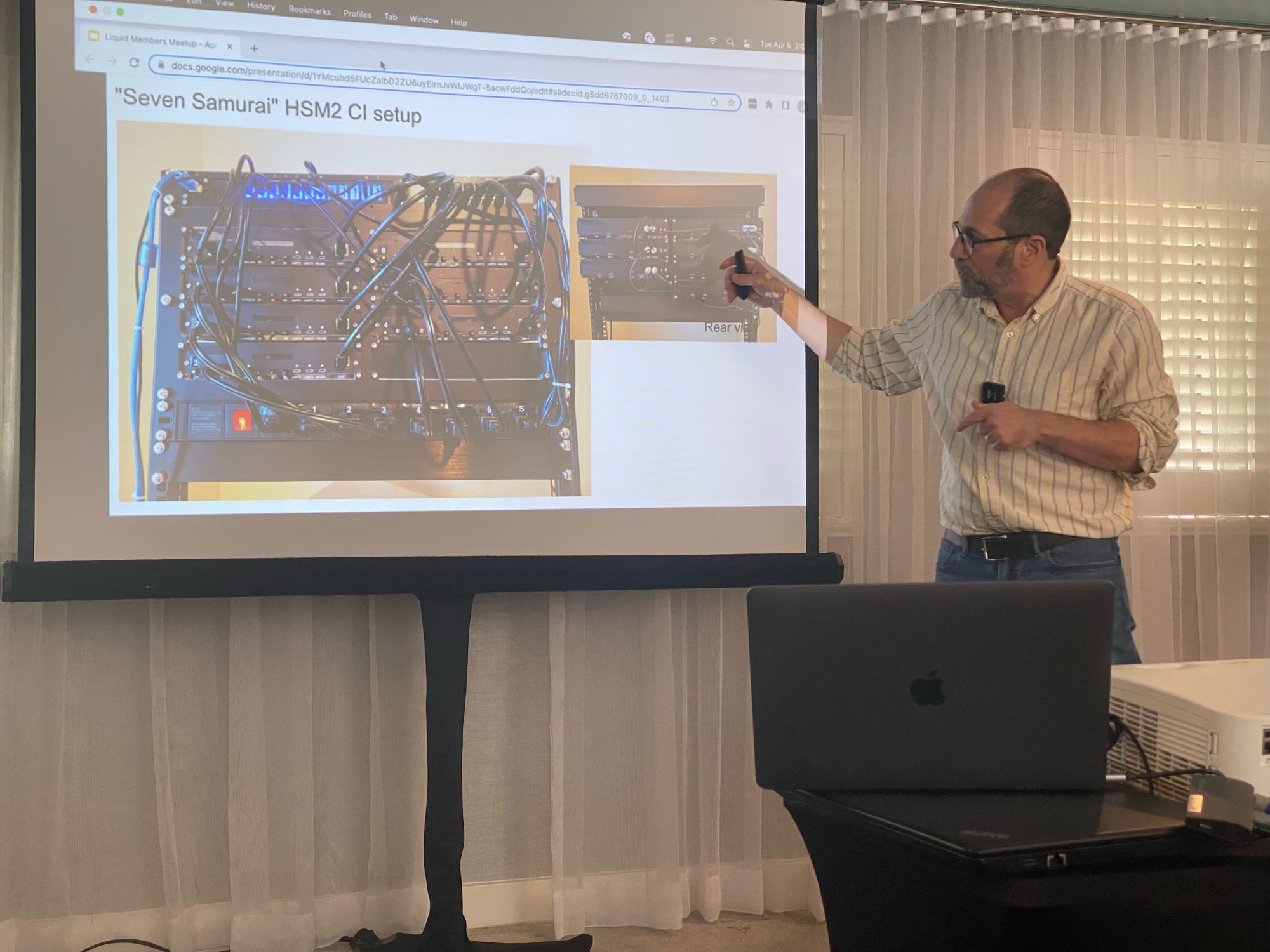 Blockstream shared three of its priorities for Liquid in 2022:
Network reliability and update-ability: building on the success of DynaFed and the recent PAK list update, Liquid will continue to enable critical upgrades with a planned blocksigner key replacement and watchmen replacement, allowing for full functionary dynamism and greater network security.
Grow the developer community: well-tested, well-documented APIs in popular languages to improve the developer experience and expand community engagement through events and forums.
Deliver features for issuers and institutions: we're in the early days of institutional adoption and critical technology choices are being made; Liquid must have enterprise-grade tools with comprehensive support for wallets and custodial solutions.
Bitmatrix
Burak Keceli (@brqgoo) of Bitmatrix, an AMM protocol, talked about extension opcodes, limited looping, and reducing the minimum relay fee and settlement time on Liquid to better accommodate covenant-based smart contracting.
Bitmatrix is a trustless exchange protocol currently in testnet (beta) that allows users to create their own liquidity pool, add liquidity to an existing pool, or swap between Liquid assets like Liquid Bitcoin (L-BTC) and USDt. The protocol consists of a collection of covenant-based liquidity pools where each immutably lives on the Liquid Network and enforces the trustless execution of trades.
Burak also appeared on several panels (covenants and sidechains) on the Open Source stage of the Bitcoin 2022 Conference.
Mempool
Wiz from mempool.space rounded out the event to discuss self-hosting infrastructure and share the latest functionality of the Liquid block explorer (liquid.network). In December, The Mempool Open Source Project collaborated with Blockstream to upgrade its Liquid explorer with new widgets for auditing and network transparency, and a redesign of the Liquid asset directory.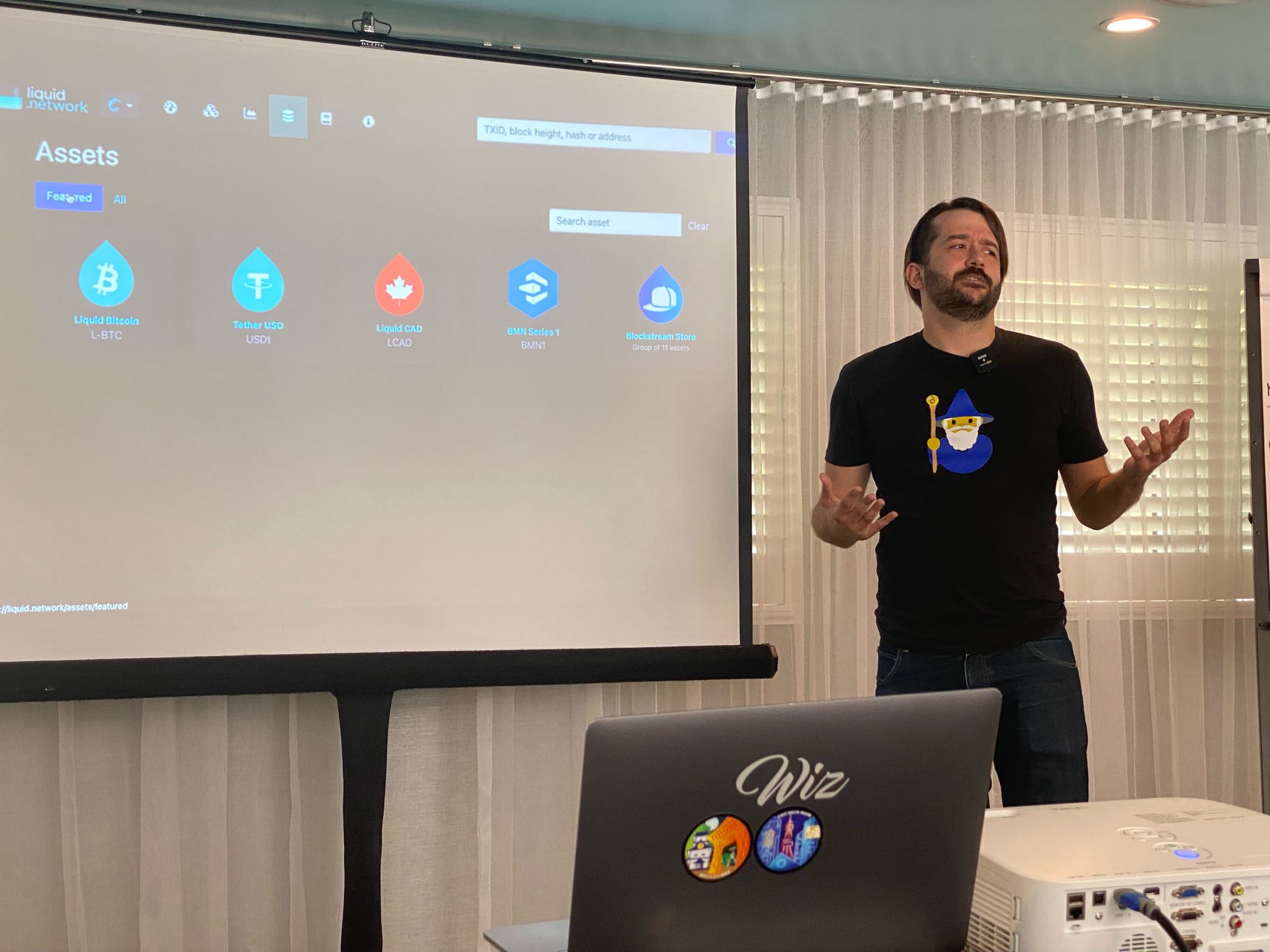 As an open-source project, any Liquid Member can request to have their assets or repository added to the liquid.network explorer. Currently, several assets are featured, including L-BTC, USDt, L-CAD, and the Blockstream Mining Note, with the El Salvador Volcano Bond also planned.
Integrate Liquid and Become a Member
If you or your business are interested in becoming a Liquid Federation member and integrating Liquid, contact the Federation's Membership Board through the official site. One of its representatives will get in touch with you shortly.
For further research and discussion, you can explore the list of Liquid-integrated platforms and join the Liquid Community Telegram.
Also, be sure to follow on Twitter for the latest updates and announcements on all-things Liquid.